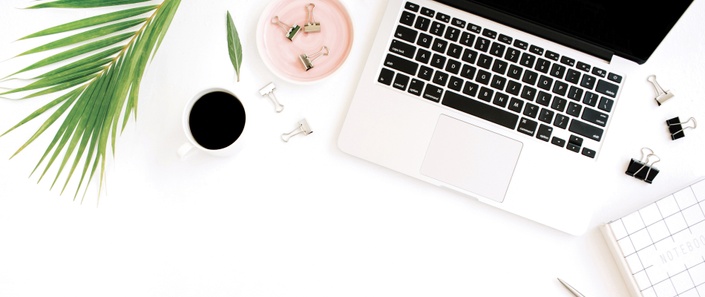 The Positivity Prescription
Create A Flourishing Life: An 8 Week Online Positive Psychology Program
Watch Promo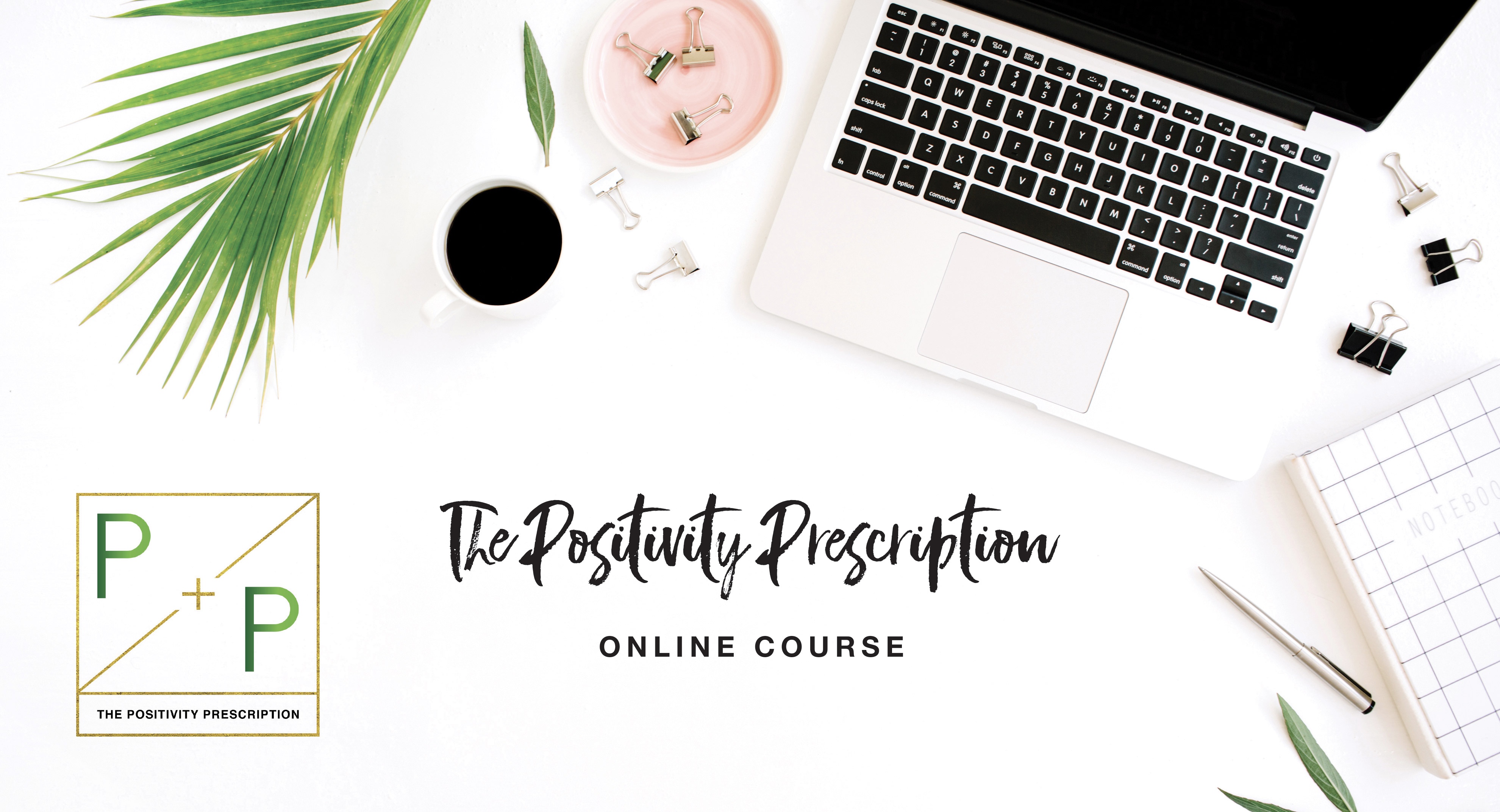 Dr Suzy Green's The Positivity Prescription is an 8-week online positive psychology program designed to help you create a flourishing life.
After years of teaching the science of Positive Psychology at the University of Sydney and in schools and organisations, Suzy has created an 8-week online program for those that don't necessarily want a post-graduate degree but do want to live flourishing lives! The Positivity Prescription will help you create meaningful, transformational and sustainable change and build resilience for life! You'll be encouraged to take up weekly challenges where you'll experiment with positive psychology practices that have been scientifically tried and tested.
Are you Flourishing or Languishing?
Did you know less than 20% of us are truly flourishing? With most people 'moderately mentally healthy' who wouldn't want to move from languishing to flourishing!

And it doesn't matter if you're 18 or 80 - if you're not feeling like your 'best possible self' then this program is your ready-made roadmap to a flourishing life, where positivity overrides negativity and wellbeing trumps depression.
5 reasons why you'll love The Positivity Prescription:
It's a simple, structured 8-week program that you can do alone, with a buddy or in a group;
It's based on the science of Positive Psychology but presented in a user-friendly format;
You'll test-drive practical tools and techniques proven to improve wellbeing;
You'll learn what the 'non-negotiables' to happiness and wellbeing are in your life;
You'll find yourself languishing less and flourishing more!
Interested? Here's what's included:
The Positivity Prescription is based on Suzy's 6M Model of Flourishing (Green, 2018). Based on research and practice, Suzy has identified 6 core psychological skills needed to create a flourishing life. Each of the 6 core modules targets one of the Ms: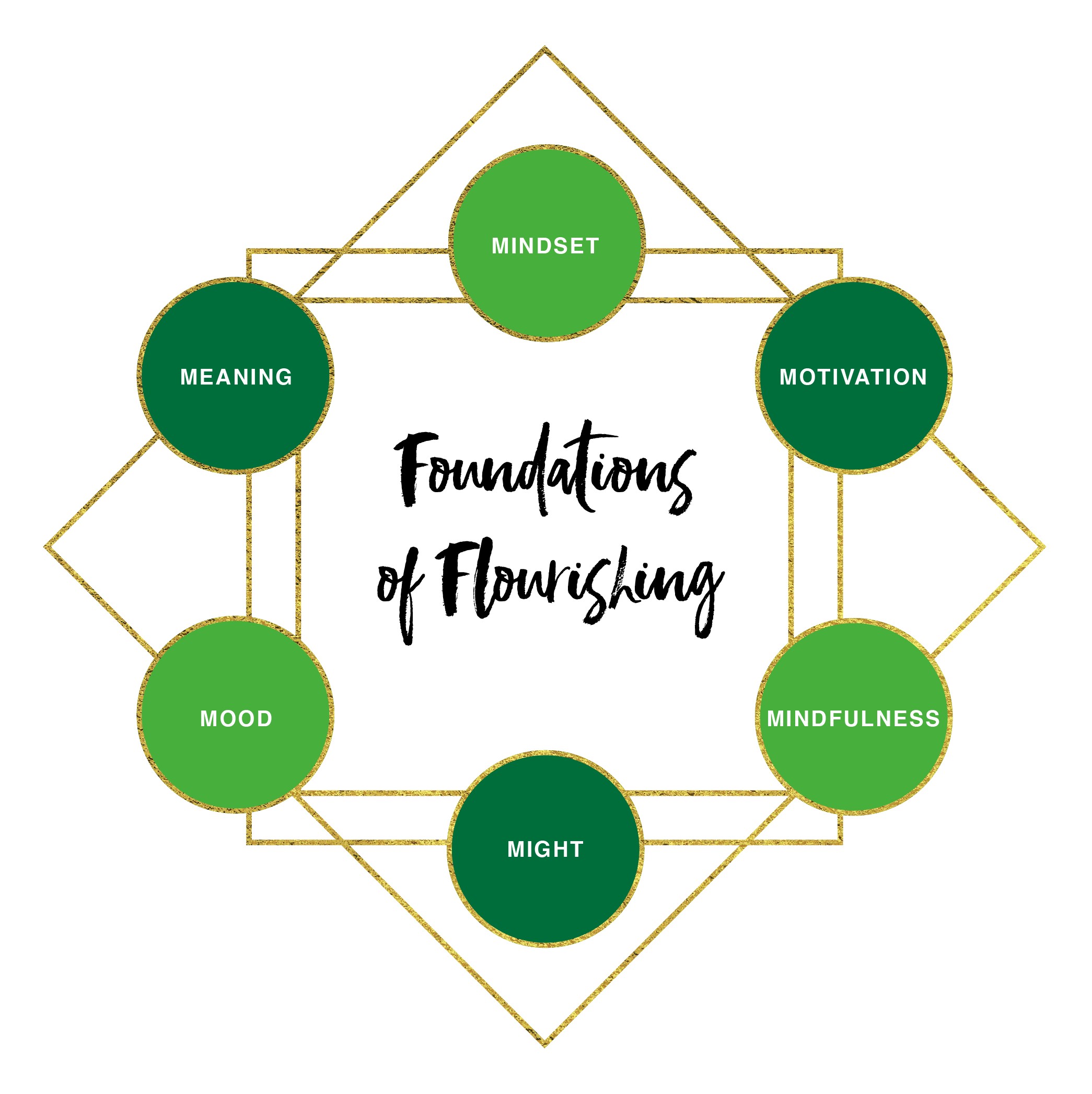 This program is for you if...
You haven't been feeling your best self lately;
You're ready to take some proactive steps to create a flourishing life;
You're interested in learning more about the science of Positive Psychology but not interested in formal academic studies;
You're interested in applying your learnings for work, school or life;
You're wanting to meet a like-minded group of people wanting to create a ripple effect of world-wide positivity!
It's great PD for...
Individuals interested in taking a proactive approach to wellbeing;
HR, training, consulting and coaching practitioners and businesses;
Psychologists, therapists, coaches and educators;
Allied health and wellbeing industry professional.
Dr Suzy Green's 'The Positivity Prescription' will help you to flourish. So let's get started – life's too short to languish!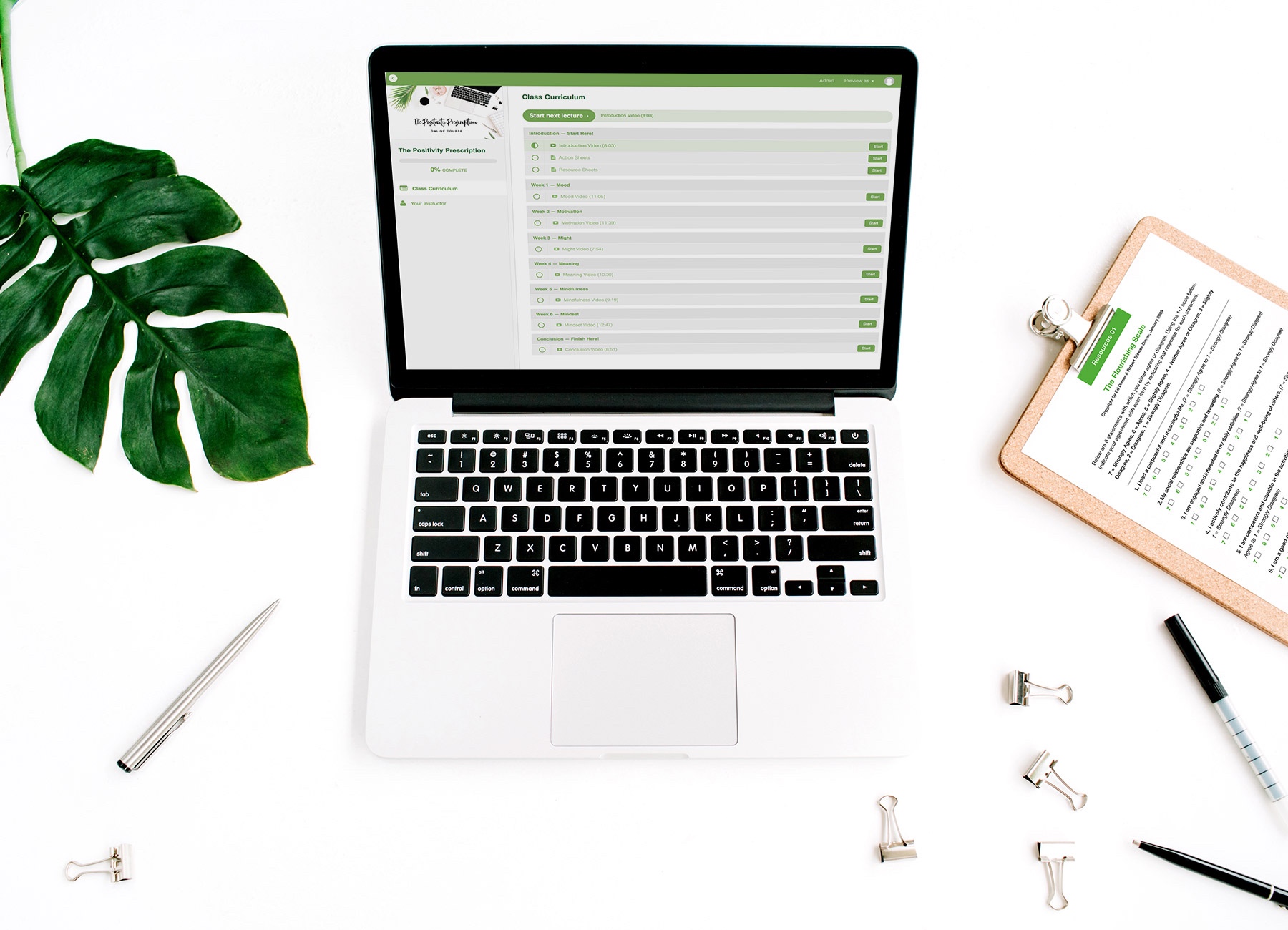 What's included in The Positivity Prescription?
The Positivity Prescription is an online Positive Psychology program consisting of 6 core modules, together with a welcome module and a conclusion module, designed to help you create a flourishing life.
In this keep forever course, you'll receive 8 modules that include a Video, Action Sheets and Resource Sheets. Each module will require you to READ, WATCH and DO for maximum impact and sustainable change. As part of your purchase, you will receive a copy of Dr Suzy Green's latest book, The Positivity Prescription which is based on the 6M Model and will be a great accompaniment to the course! You'll also have the option to upgrade to the Class of 2021 for an additional cost which will allow you to join the weekly Live in the Labs with Dr Suzy Green.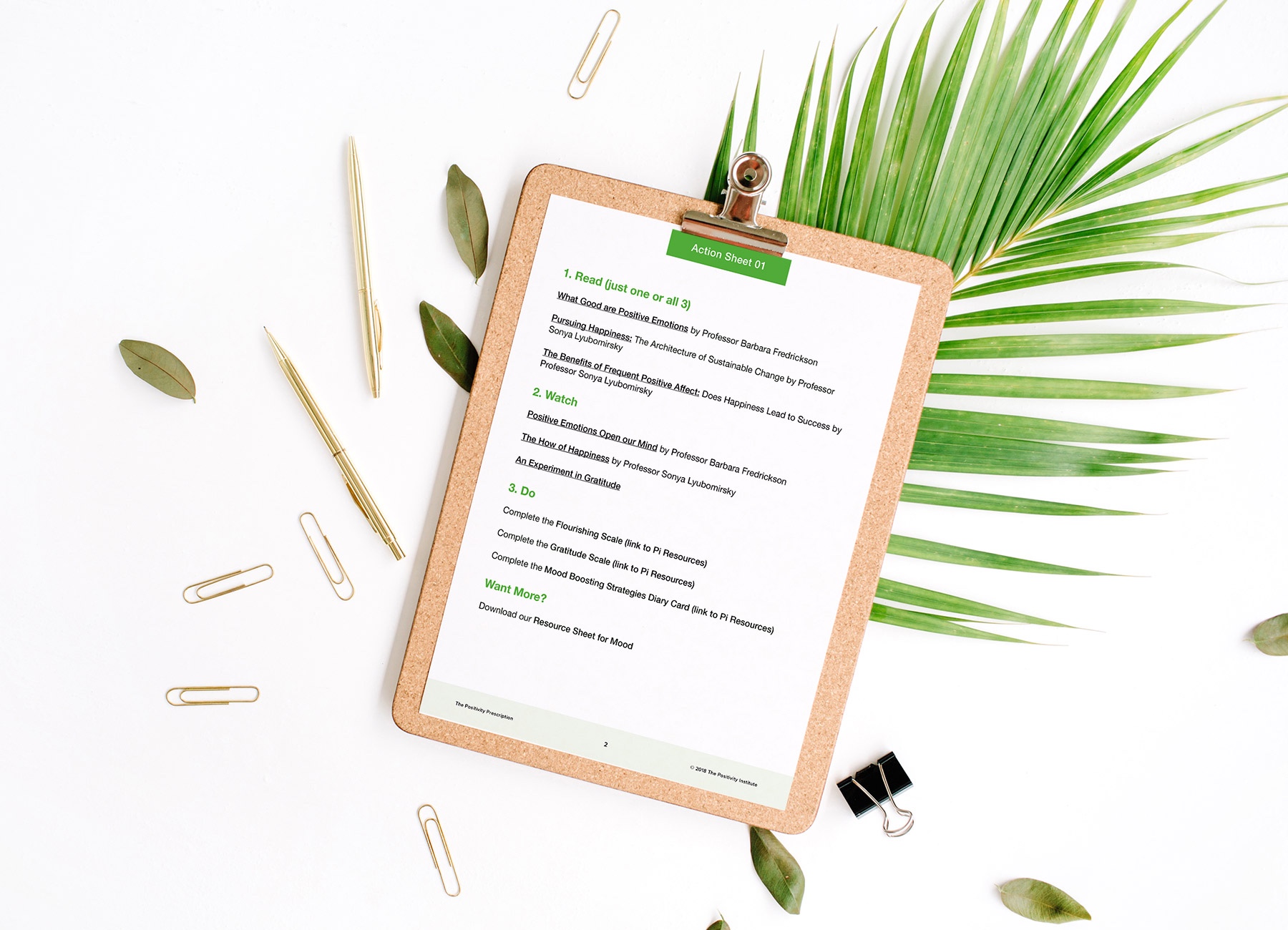 Course Outline:
The introductory module aims to introduce you to 'The Positivity Prescription' and provide you an overview of what we'll cover in the 6 core modules and how to get the most out of the program.
Helps you to understand - 'What is Flourishing' and introduces the concepts of Positivity and the Positivity Ratio. This module includes scientifically proven 'Mood Boosting' strategies aimed at helping you flourish.
Aims to increase your motivation for change by understanding your readiness and reasons for change. Includes a values assessment and visioning exercise.
Introduces you to the concept of character and performance strengths and their powerful effect on goal attainment and wellbeing. A strengths assessment is included.
Helps you to identify your authentic desires and transform them into meaningful life goals. A focus will also be on creating more meaningful work utilising job crafting activities.
Introduces you to the concept of mindfulness as the foundation of a flourishing life. A battery of well-being assessments will also create a 'wellbeing dashboard' to track progress.
Introduces you to the concept of Fixed versus Growth Mindsets. Assists you to identify ANTS (automatic negative thoughts) that undermine wellbeing and provides you with an opportunity to create PETS (performance enhancing thoughts) that increase wellbeing and achievement.
In the concluding module, Suzy provides strategies to help you to sustain positive and meaningful changes.
What are the benefits of The Positivity Prescription?
The Positivity Prescription bridges the gap between science and practice by providing a structured, 8-week program that guides the course participant to learn and apply proven positive psychology practices. The program is presented by Dr Suzy Green, an engaging speaker in a user-friendly style that aims to provide maximum motivation through a coaching approach. Suzy provides practical tips and techniques, together with weekly challenges where you're encouraged to take action and put knowledge into practice.
Your Instructor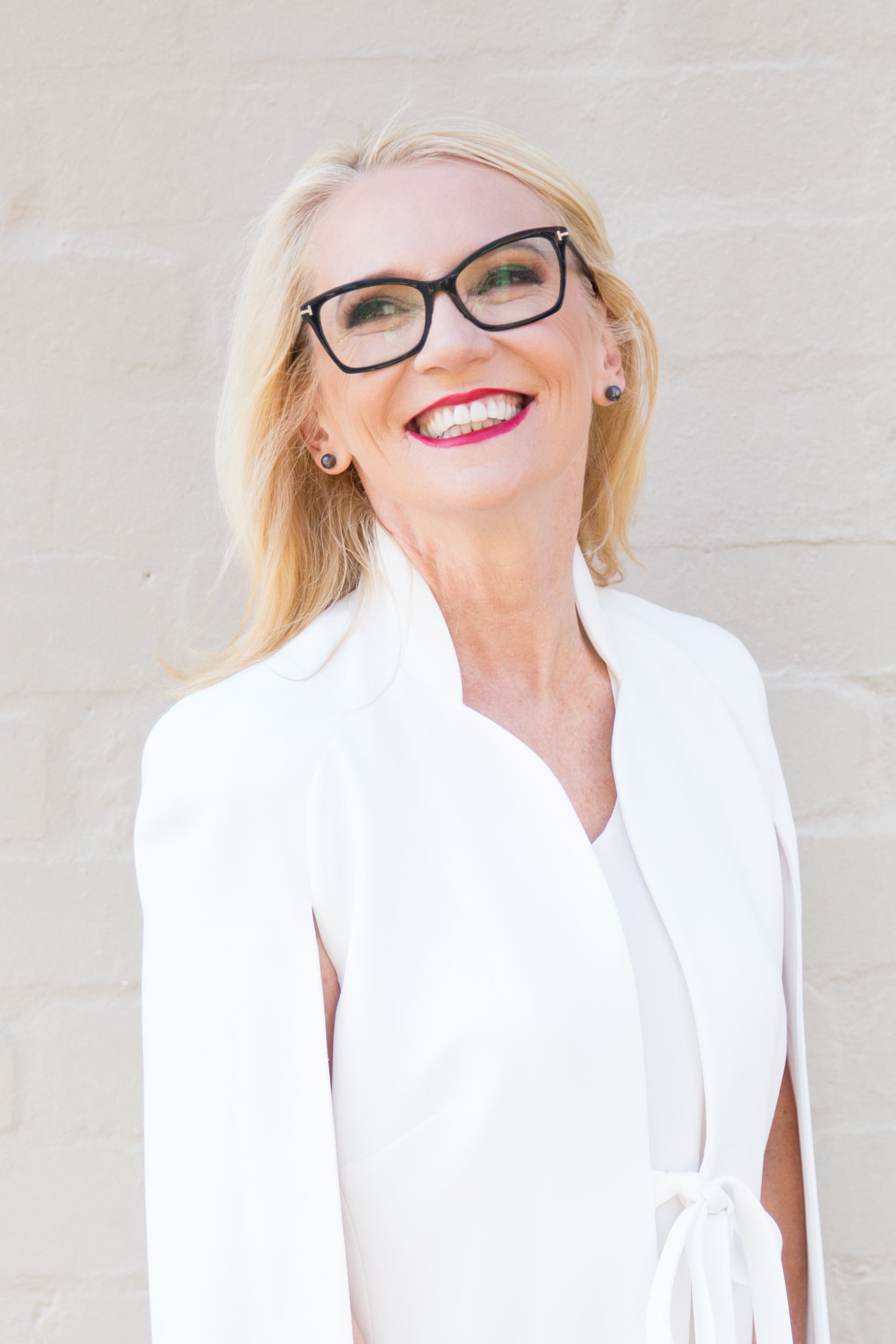 Dr Suzy Green is a Clinical and Coaching Psychologist (MAPS) and Founder & CEO of The Positivity Institute, a positively deviant organisation dedicated to the research and application of Positive Psychology for life, school and work. She is a leader in the complementary fields of Coaching Psychology and Positive Psychology having conducted a world-first study on evidence-based coaching as an Applied Positive Psychology. Suzy was the recipient of an International Positive Psychology Fellowship Award and has published in the Journal of Positive Psychology. She lectured on Applied Positive Psychology as a Senior Adjunct Lecturer in the Coaching Psychology Unit, University of Sydney for ten years and is an Honorary Vice President of the International Society for Coaching Psychology. Suzy also currently holds Honorary Academic positions at the Centre for Positive Psychology, University of Melbourne, the Black Dog Institute and she is an Affiliate of the Institute for Well-Being, Cambridge University. Suzy was the Stress-less Expert for Australian Women's Health Magazine and the Positive Psychology Expert for Muse Magazine. Suzy is an official ambassador for the Starlight Children's Foundation and she maintains a strong media profile appearing on television, radio and in print.
Course Curriculum
Introduction — Start Here!
Available in days
days after you enroll
Week 1 — Mood
Available in days
days after you enroll
Week 2 — Motivation
Available in days
days after you enroll
Frequently Asked Questions
When does the course start and finish?
The program is designed to be taken over an 8 week period.
How long do I have access to the course?
How does lifetime access sound? You will have unlimited access to this course for as long as you like - across any and all devices you own.
What does the course cost?
We offer 1 payment option of $330 (inclu GST for Australian customers). You will have option for upgrading to the Class of 2021 which includes 8 weekly Live in the Labs with Dr Suzy Green for $660 (incl GST for Australian customers).
How much time do I need to commit?
If you plan to work through the class in real-time we recommend between 1-2 hours per week to complete the Read, Watch and Do requirements - add a little extra time to engage with our community in our Facebook Group.
Do I have to join the Facebook Group?
Not if you do not want to, but 'The Positivity Prescription' facebook group will be a better community with you in it!! We are looking forward to participants getting involved and getting to know each other from inside the "invite only" Facebook Group.
Are there any prerequisites to enrol?
No background in Psychology is needed for this course. Anyone with an interest in flourishing, positive psychology, wellbeing or developing their best-self is most welcome!
Can I get CPD points for finishing this course?
What if I am unhappy with the course?
We would never want you to be unhappy! If you are unsatisfied with your purchase, contact us prior to the 2nd Module being released to receive a full refund.
Is there anyone who should not do this course?
This course is aimed at participants without diagnosable clinical disorders and is not intended to be a substitute for professional mental health treatment. If you have any concerns please consult with your GP before proceeding.